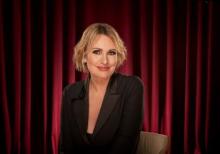 2022-11-19
Concierto de Ainhoa Arteta

Category CULTURE AND LEISURE

The Cabildo de La Gomera and the Festival Mar Abierto present Ainhoa Arteta in a concert to be held at the Auditorio Insular on 19 November. Tickets are already available on the festival's website and at tickety.com. Internationally renowned and with a voice full of emotion and intensity, the artist has performed in the best theatres in the world, achieving not only technical excellence, but also the affection of the audience in every concert.